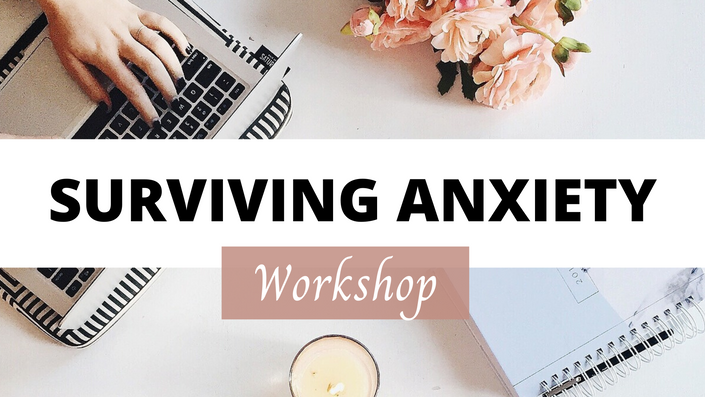 Surviving Anxiety Workshop
A Straightforward Guide Showing You All Of The Methods That You'll Ever Need To Manage Your Anxiety And Improve Your Mental Health!
Maybe some of these feelings resonate with you...
Your anxiety is affecting your job

Your anxiety is so crippling that it's affecting your performance at work. Getting up in the morning to get ready for work drains all your energy and you fear having panic attacks at work.
You find yourself overthinking everything
Your past, your future, what you said, what you should've said, what you did, what you should've done...your entire day feels like it consists of overthinking everything, draining you of all your mental energy.
You feel like anxiety is controlling your life
No matter how much you try to escape or avoid it, anxiety seems to control every area of your life. Your job, your relationships, your social life...you can't seem to enjoy a moment of peace without anxiety somehow getting in the way.
You have trouble sleeping
At the end of the day you feel exhausted, but that doesn't stop anxiety from keeping you awake at night with thoughts of worry, regret, to-do lists...the thoughts are endless and you can't figure out how to shut them off.
You dread waking up every morning
Every morning when you wake up you dread getting out of bed because you know you have to get up to do it all over again. The physical and mental symptoms of anxiety hit you as soon as you open your eyes every morning.
You're mentally and physically drained
Mentally, physically, emotionally...you just feel like you can't make it through another day because you're too exhausted from all of the overwhelm and negative thoughts that run through your mind.
Everything feels overwhelming
The thought of having to do ANYTHING feels overwhelming and nearly impossible. You've done everything a million times in your head so when it comes time to actually DOING it, the thought alone overwhelms you.
You feel depressed, unmotivated, and low on energy
Your to-do list seems never ending. You usually sit for hours thinking about all the things that you need to do, but you end up doing nothing at all because you don't have the mental energy or the motivation. You feel sad for no apparent reason and you have no mental energy.
Your relationships are suffering
You feel like you're a burden to others. Your anxiety causes you to sometimes lash out on people you care about, causing strain on your intimate relationships, friendships, and your relationship with your family members.
You feel misunderstood
You feel alone, judged, and misunderstood by people. It's hard to hold down a job or a serious relationship because you're so critical and judgemental of yourself that you feel like other people are also judging you.
If you're feeling any of these, you're in the right place, my friend!
I went from being on medication for almost 3 years, to finally being able to manage my anxiety without the use of medication.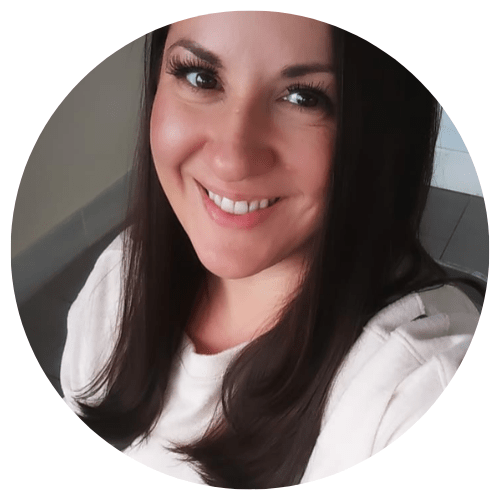 If you've lost all hope and you think that anxiety is just a part of who you are and there's nothing you can do...think again!
I also felt lost, borderline depressed, stuck inside my own head, defeated, and sometimes wished I could find a way to just end it all.
Every morning I would wake up with the same miserable cycle -- stuck in my past, worrying about my future, and not able to enjoy any of the things that I used to.
My anxiety started getting worse overtime, and depression slowly started to sink in.
Mental illness doesn't run in my family so I had no idea who to turn to or how to cope with my debilitating anxiety.
I felt scared, alone, and constantly overwhelmed.
Anxiety kept me trapped for too many years so I knew I had to somehow pull myself out of it. Otherwise, I don't even want to think about what could've happened.
I might've lost my husband.
I might've lost my job.
I might've even lost my life.
Depression started to take over, and I feared what was on the other side of that dark place.
That fear was what got me to where I'm at today.
I relied on anxiety medication for almost 3 years, but after my breakthrough, I was able to completely take myself off medication.
I FINALLY got my life back!
In fact, I got a better life in return.
I started my own business.
I'm much calmer than I ever was before.
And, I'm happy...through the good times and the bad -- I still find happiness through all of it.
These simple lifestyle changes brought joy back into my life.
They weakened the fears in my mind, decreased painful memories, and allowed me to control my anxiety instead of the other way around.
And, I'm steadily seeing my life improve, day after day.
The secret to my success is no secret!
In fact, anyone can turn their life around just like I did.
The only thing that was missing in my life was knowledge.
And that knowledge is everything that I'm sharing with you in the Surviving Anxiety Workshop.
You don't have to live in fear anymore...
You don't have to continue to suffer....
All you have to do is educate yourself.
The things that I teach in this course are NOT the things that we were taught in school.
It's not your fault that you're struggling.
It's not your fault that you don't know what you don't know.
You can't expect to know what you haven't been taught.
Life doesn't stop when things get overwhelming...it doesn't stop so we can catch up.
We just have to learn how to keep up and be ready for those challenges, that unexpectedly show up in our lives.
And that's what I've learned to do.
I've learned how to cope with the challenges that I'm faced with, daily.
I've learned how to manage my negative thoughts and accept myself for who I am and where I'm at in my life.
And those are the valuable lessons that I'm going to teach you in this course.
"Anxiety disorders are the most common mental illness in the U.S, affecting 40 million adults in the United States age 18 and older, or 18.1% of the population every year. Anxiety disorders are highly treatable, yet only 36.9% of those suffering receive treatment."
Trying to manage anxiety without support and guidance is like trying to get yourself dressed in the dark...
It's going to feel frustrating and nearly impossible.
You know that being able to manage your anxiety will change your life for the better, but how do you do it when you don't know where to start?
Anxiety can feel impossible to manage but it doesn't have to feel that way!
You've probably tried many different methods over and over again, only to find yourself back at square one.

You're probably at a point in your life where you feel like giving up because you don't think anything will ever work for YOU!
Thinking about it probably gives you even more anxiety.
If you're tired of anxiety controlling your life, I've got your covered!
Are you ready to free your mind and FINALLY be the person you were born to be?
If so, you're in the right place!
WHAT I TEACH INSIDE SURVIVING ANXIETY
Inside the Surviving Anxiety Program, you will learn everything that I've done, learned, and continue to do, in order to manage my anxiety and maintain a healthy mindset.
You will learn exercises that will help you strengthen your mindset, calm your thoughts, and reduce your stress and anxiety.
This course is everything you need to know and learn, about what it takes to nurture your mind so that you can feel less anxious.
These are the basic fundamentals that are necessary to maintain your mental health.
INTRODUCING...
Surviving Anxiety Workshop!

Everything you need to know about managing anxiety, reduce stress, and gain more control over your thoughts.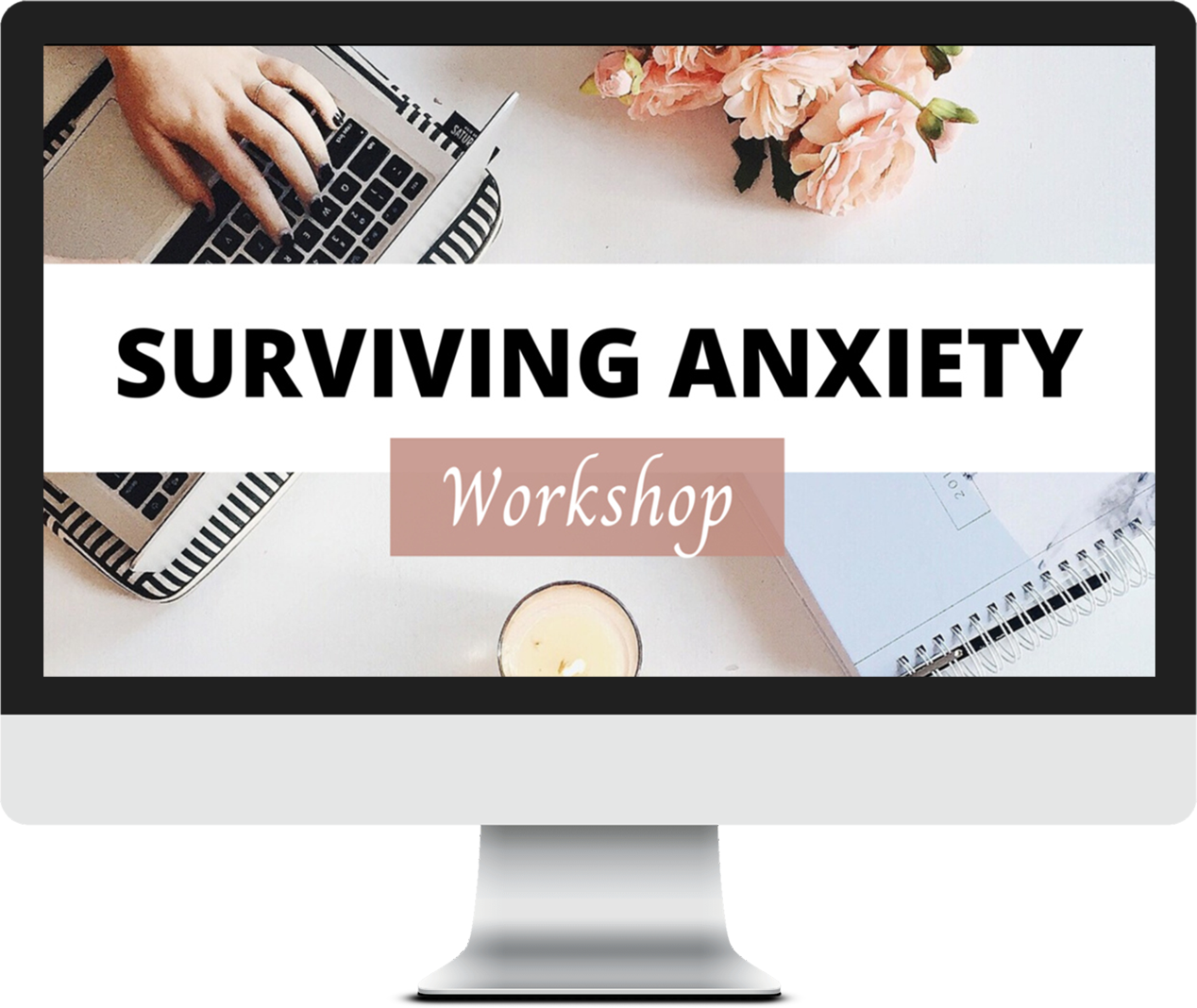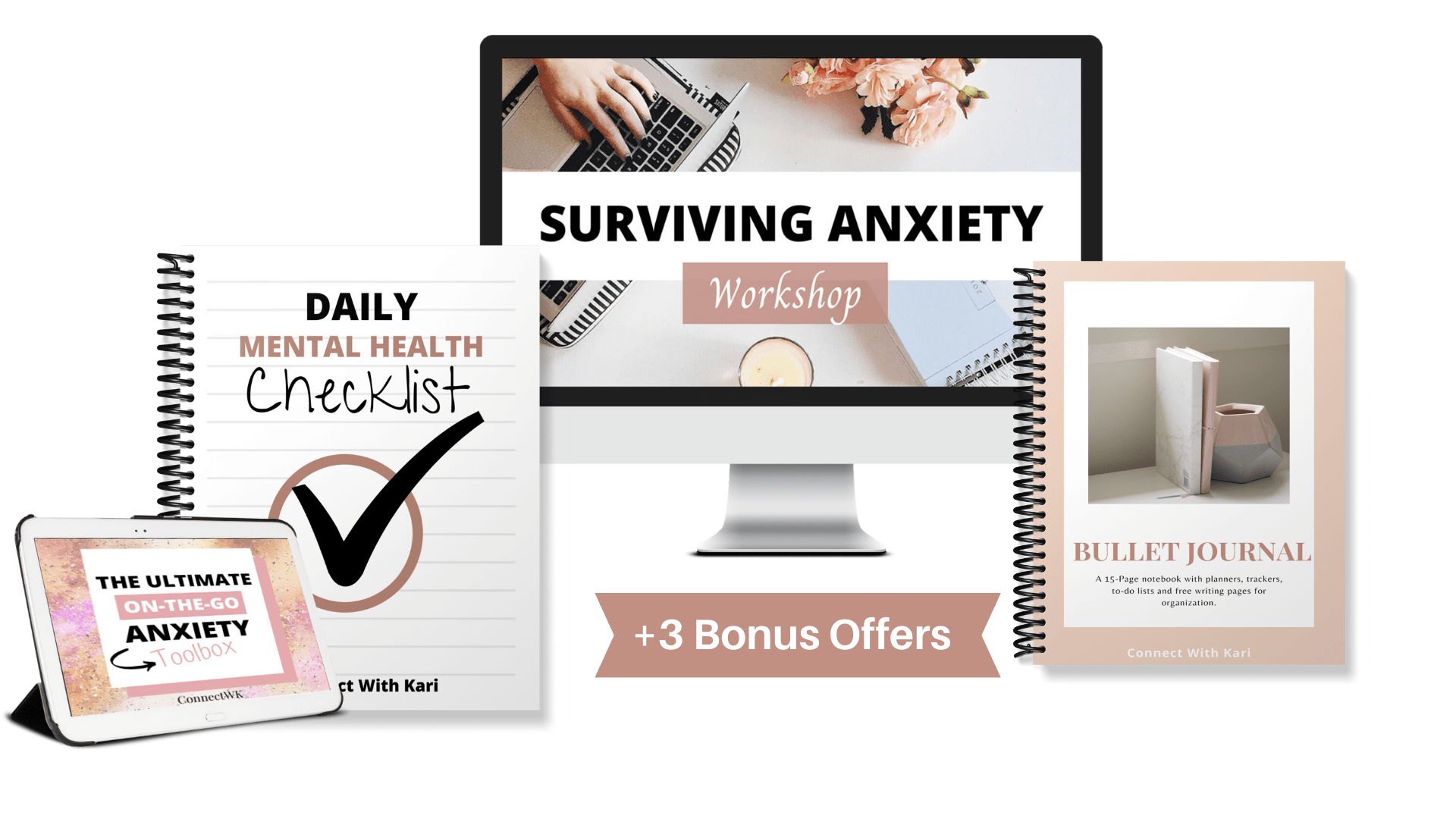 Here's What's Inside!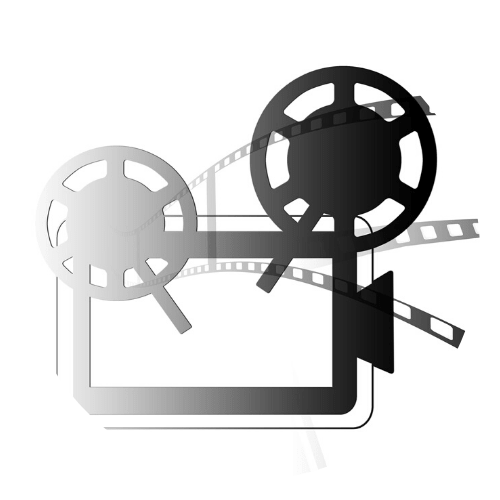 Video Lessons
Some lessons are in video format, making it easy, convenient, and faster to learn.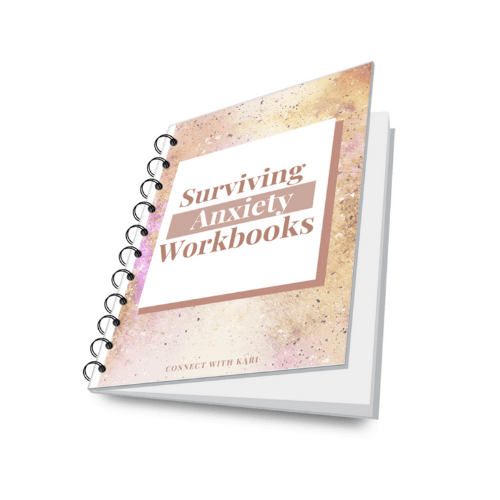 Workbooks

Each module will include a workbook to go along with the lessons, to help you follow along with and meet your goals.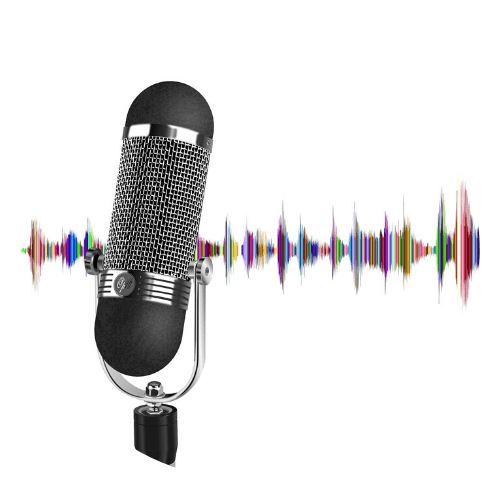 Voice Recorded Lessons

Some lessons will include audio (voice) lessons, making it easy and convenient to listen to anytime, anywhere.

7 Modules, including workbooks to follow along with.
Module 1: Programming Your Mind
Module 1 will cover the important topics to help you reprogram your beliefs, help you understand the importance of mindfulness and how it can help you reduce your anxiety, improve your relationships, and so much more.

Module 2: Mindset
Module 2 includes mindset-related topics such as beliefs, negative thinking patterns, acceptance, and faith-driven concepts to help you cope with anxiety triggers and causes.
Module 3: Conscious Vs. Subconscious Mind
In module 3 you will learn the power of the subconscious mind, and how to reprogram it to be less anxious, more positive, and help you understand why you have certain beliefs and how you can gain more control over your thoughts.
Module 4: Self-Love
Module 4 will cover everything self-love-related including relationships, self-care, and forgiveness. This module is for those of you who might be struggling with forgiveness or stuck living in your past or worrying about your future. Self-love is an important component when it comes to your mental health because it is the driving force that can move your forward.
Module 5: Therapy
Module 5 will cover strategies that therapists use for patients who suffer from mental illnesses such as, anxiety and depression. You will learn cognitive behavioral therapy (CBT), exposure therapy, acceptance and commitment therapy, and psychotherapy. Everything you need to help you manage your anxiety.
Module 6: Coping Strategies
And finally, module 5 will cover all of the coping strategies that I've used and continue to use, to manage my anxiety. That includes breathing techniques, meditation, gratitude, journaling, and positive thinking strategies.
Module 7: Things to Remember
In the last module, you will feel motivated, inspired, and gain hope in your mental health journey. You will learn that it is possible for you to heal, by learning about the process of healing, and why it's possible for you too.
LET'S TAKE A LOOK AT WHAT'S INCLUDED...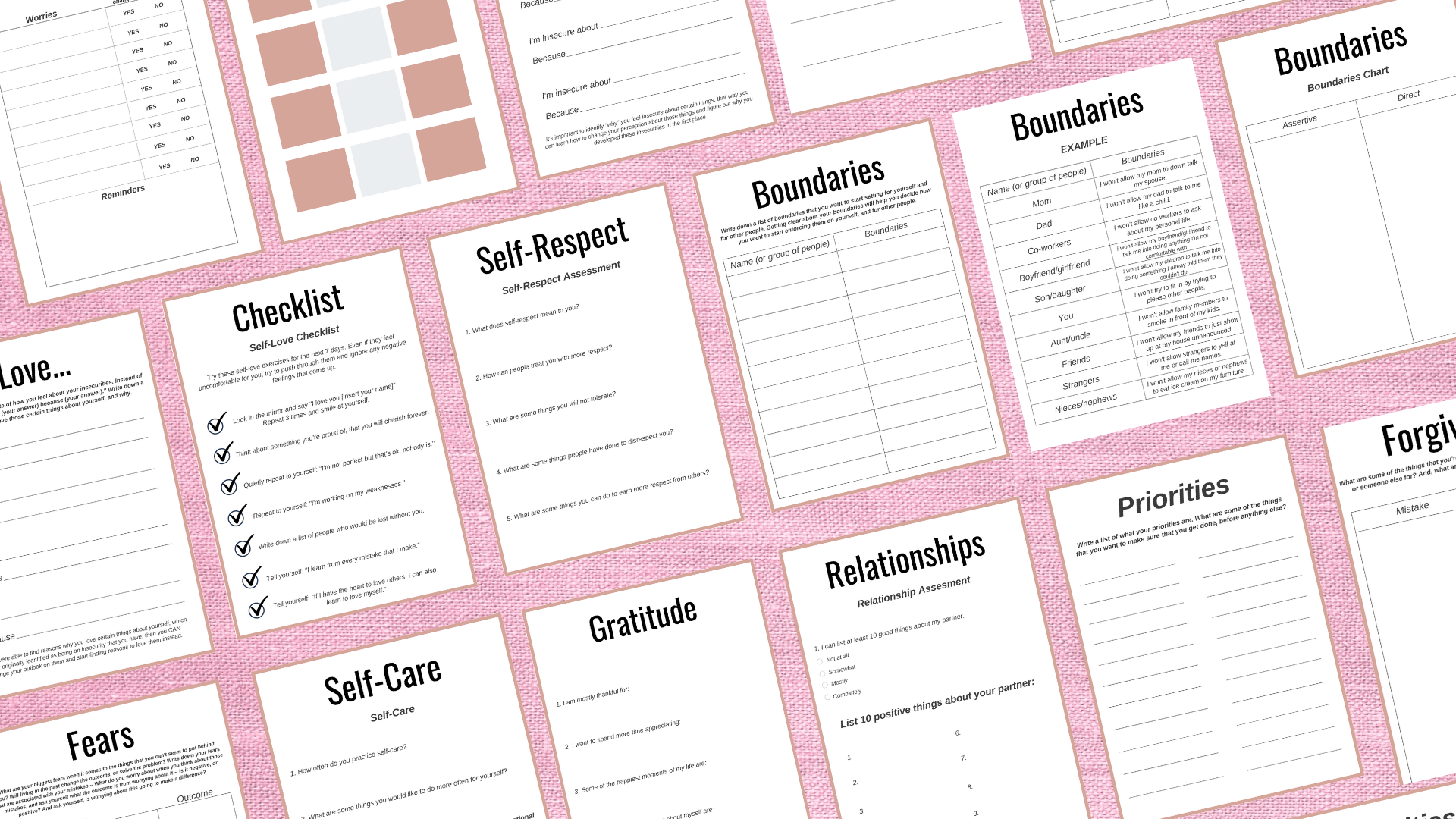 Over 50+ pages of topic related worksheets
✅ 7 modules

✅ 5 Printable workbooks (reusable)

✅ Over 5 hours of recorded video lessons

✅ Voice recorded lessons
✅ + 3 Bonuses
BONUSES MAKE EVERYTHING BETTER! DON'T THEY?
Bonus #1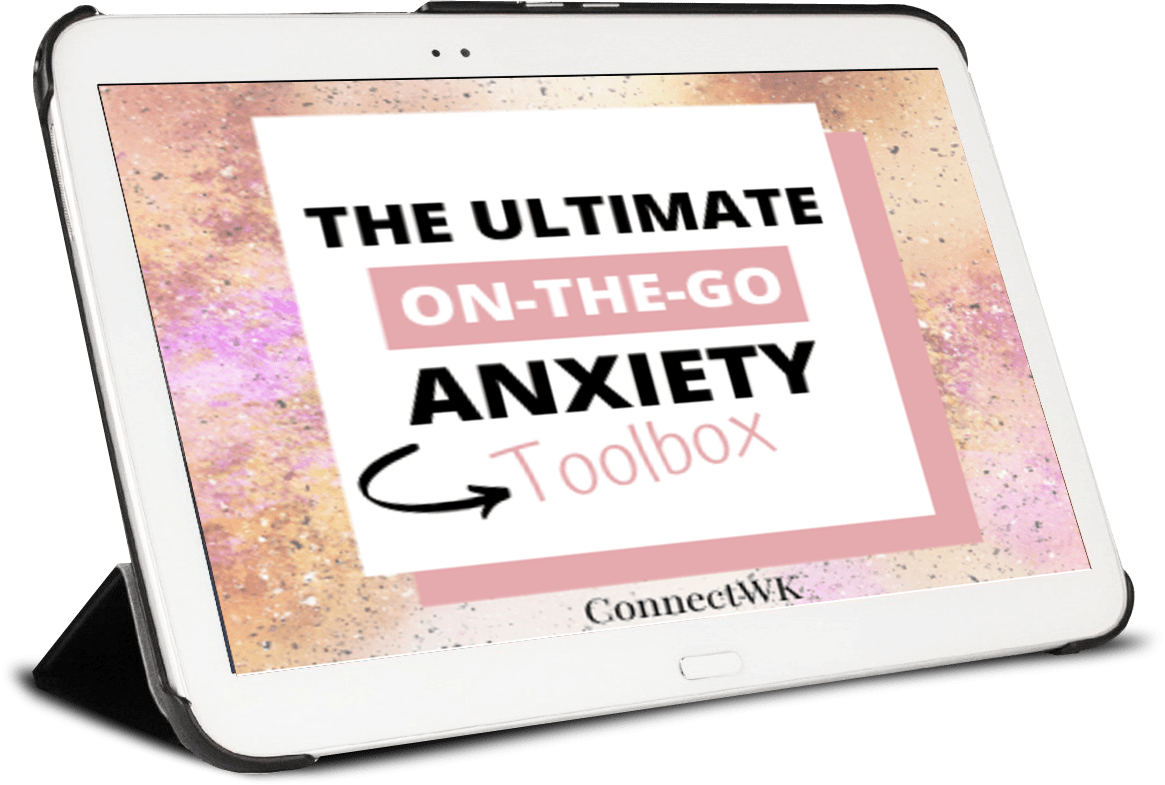 The Ultimate On-The-Go Anxiety Toolkit ($17 Value...Yours FREE)
The On-The-Go Anxiety Toolkit is great for times when you're outside of your home (at work, at the gym, at a coffee shop - hey, who's judging :)) and you start feeling overwhelmed. The Toolkit includes a voice recording (from me) walking you through difficult times to help keep you calm. You will also get some worksheets (fill-in-the-blanks) to bring your focus back to the present moment.

Bonus #2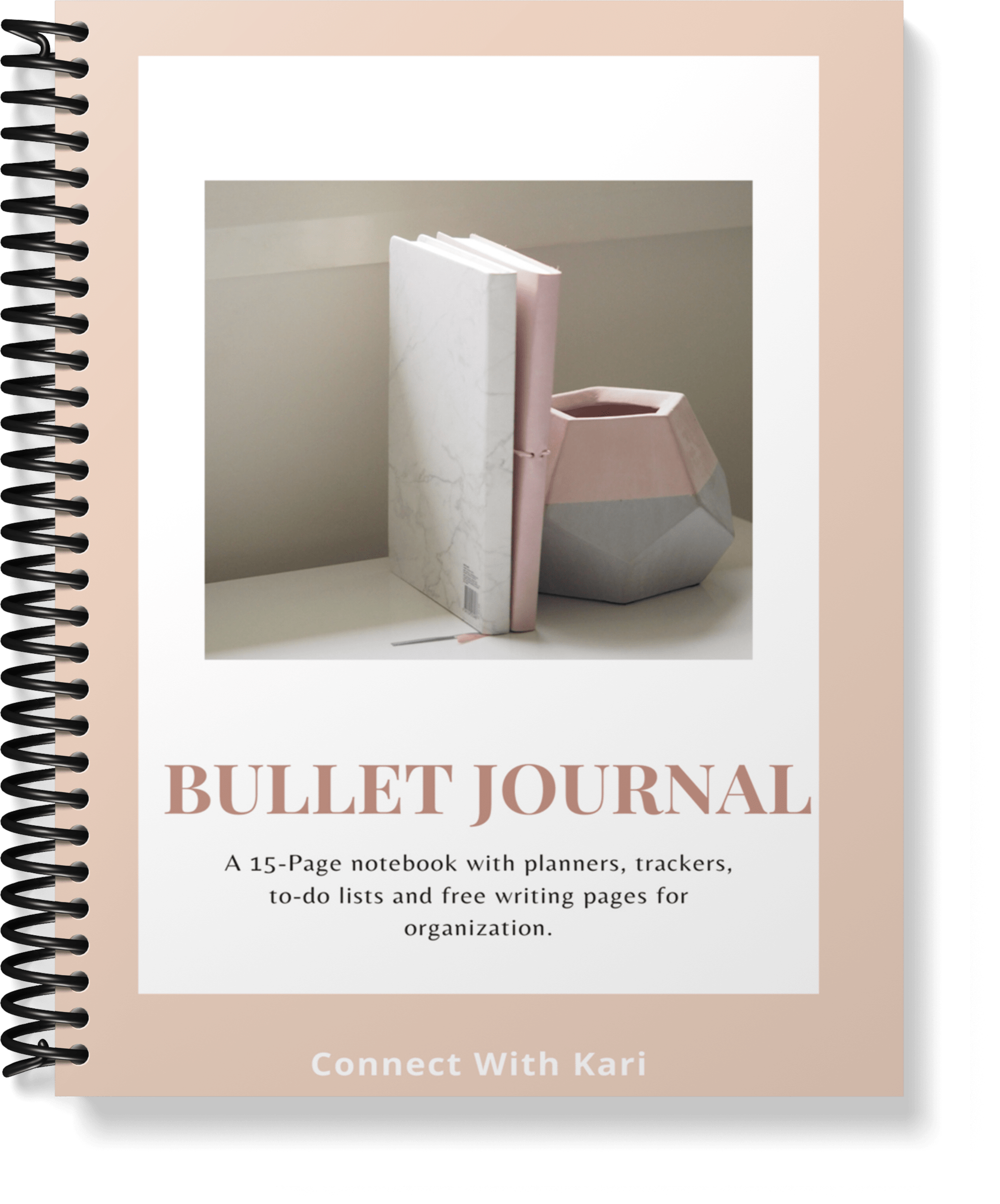 Bullet Journal ($12 Value...Yours FREE)
The bullet journal is like a mini workbook, including 15-pages of trackers, planners, and charts to keep you on track and focused. You will also get a mood chart to help you keep track of your daily moods.

Bonus #3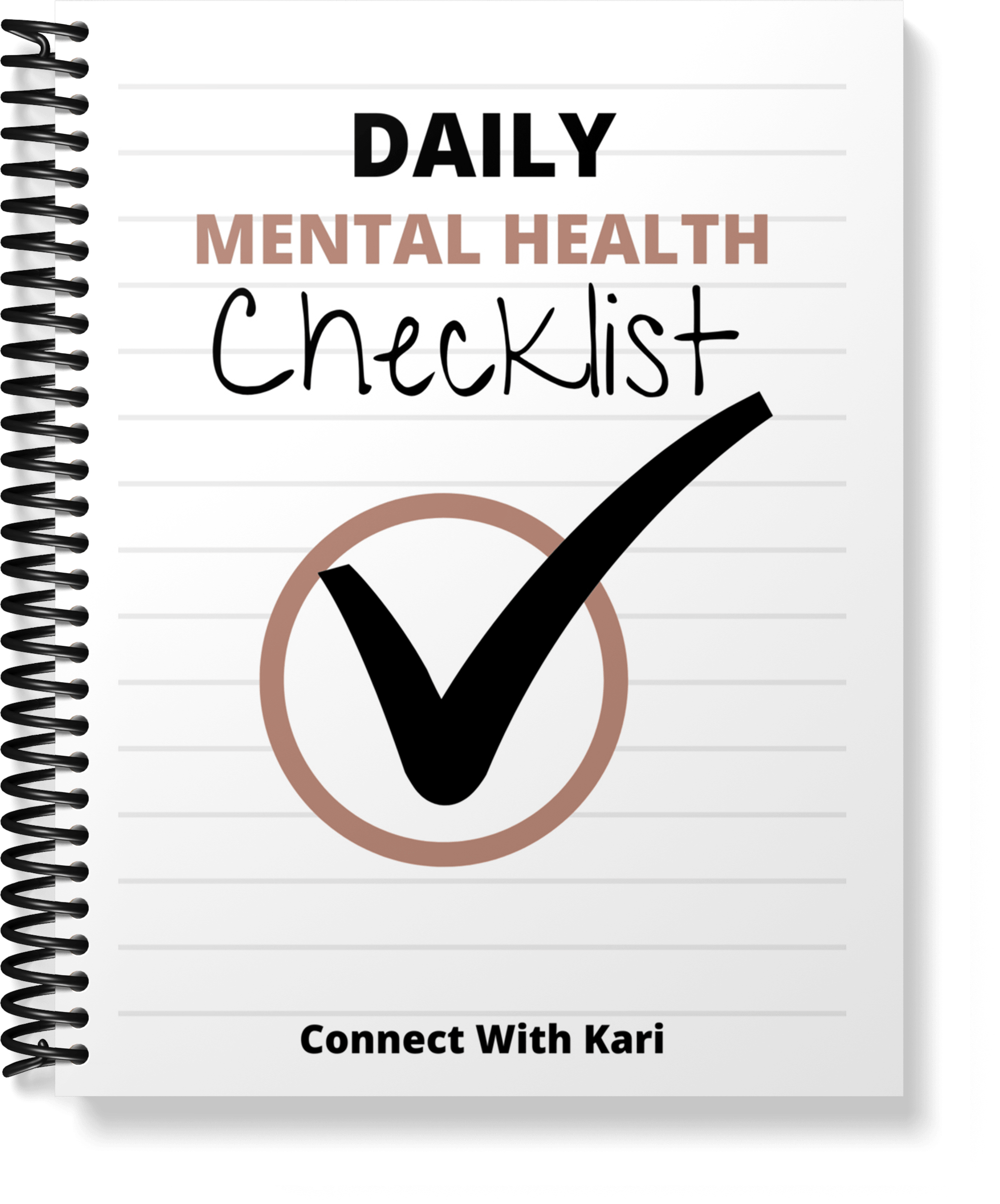 Daily Mental Health Checklist ($7 Value...yours FREE)
The Daily Mental Health Checklist is a simple worksheet for you to fill out every day, to make sure that you're doing everything good for your mental health. This allows you to keep track and make sure that you're doing all that you can for your mental health.
Course Curriculum
Welcome
Available in days
days after you enroll
Programming Your Mind
Available in days
days after you enroll
Mindset
Available in days
days after you enroll
✅ After taking this course you will get clear about what's causing your anxiety (super important)!

✅ You will gain clarity about the things that you need to do in order to reduce your anxiety.
✅ You will have a better understanding of what it takes to maintain mental health.
✅ You will learn how to accept yourself for who you are.
✅ You will learn how to manage your emotions.
✅ You will learn how to control your impulses.
✅ You will learn how to be yourself and love yourself unconditionally.
Are You Ready to...

Find out the methods that I used to take me from relying on medication for almost 3 years to being able to manage my anxiety naturally, without the use of medication?
Unlock your true potential using methods that WORK?
Feel calmer, happier, and less anxious?
Identify your anxiety triggers and learn how to cope with them?
Control your anxiety instead of the other way around?
Become the person you were born to be?
This course is NOT for you if...
You're expecting a "cure" for your anxiety. This course is a great guide and we strongly believe that it can help you reduce your anxiety, but we cannot predict or guarantee individual results.
You're looking for "new" information that you've never heard before. Although these methods are unique to my personal experience, we cannot guarantee that the information provided in this course is anything you haven't heard before.
You expect your anxiety to totally dissapear. The fact is, healthy anxiety is a part of life and you can never totally get rid of it. However, there is plenty of information in this course that'll teach you ways to cope and manage your anxiety so that it doesn't interfere with your every day life.
You're already working with a professional. If you're already getting professional help, then hopefully you already know most of the information provided in this course. However, it is helpful to get information from someone who's been through what you're going through, and how I was able to recover.
This course IS for you if...
You need help learning how to cope with anxiety to live a more productive, stress-free, calmer life.
You have absolutely no idea why you're so anxious and you need some guidance.
You want to learn from someone who's been where you are, who was able to break free using natural methods to manage their anxiety.
You're not sure if your anxiety has gotten to the point where you need to seek professional help, but you know your anxiety is bad enough that it's interferring with your life.
You want a place to refer back to anytime you feel anxious or unsure about if you're doing the right things.
You need help with your intimate relationships. Our relationships are a big part of our lives and can impact us (both negatively and positively), so I want to teach you the fundamentals of having a healthy and lasting marriage.
You want to learn how to reprogram your mind to think more positively and feel less anxious. This course will teach you all the things that I personally do to uplevel my beliefs and accept the things I cannot change (very powerful)!
Frequently Asked Questions
When does the course start and finish?
The course starts now and never ends! It is a completely self-paced online course - you decide when you start and when you finish.
How long do I have access to the course?
How does lifetime access sound? After enrolling, you have unlimited access to this course for as long as you like - across any and all devices you own.
What if I am unhappy with the course?
We would never want you to be unhappy! If you are unsatisfied with your purchase, contact us in the first 30 days and we will give you a full refund.
What format is the course delivered in?
The course is a combination of videos, voice recorded lessons, as well as some downloadable worksheets to follow along with the lessons/challenges.
Who was this course designed for?
The course is designed with busy people in mind who prefer video lessons, and for people who need help managing stress and anxiety. You will learn the most important methods that helped me go from having to rely on medication, to finally learning how to manage my anxiety without the use of medications. If you need help learning more about anxiety and mental health in general, this is a great guide for you to learn the basics to improve your mental health and anxiety.
Who is this course NOT for?
Although these methods work and have helped me manage my anxiety, it is not for everyone. if you're expecting your anxiety to disappear overnight then this course might not be the best course for you. The truth is, anxiety is a part of our human physiology therefore, you cannot 100% make it go away. If you're already working with a professional this course might not be the best fit for you. You should already know most of the information provided in this course if you're currently working with a therapist. This course might also not be a good fit for you if you're expecting to get new information. The methods in this course are nothing unheard of, they're simply just the methods that I know work because they have worked for me.
ENROLL TODAY SO YOU CAN HAVE A BETTER TOMORROW!