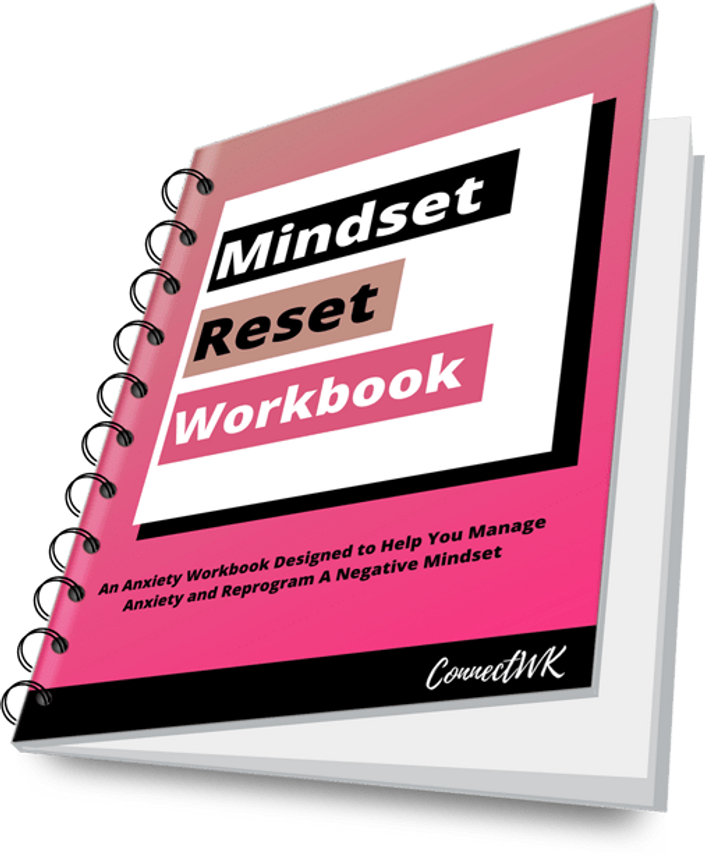 Mindset Reset Workbook
A 150+ Page Personal Development Workbook for Mental Health and Anxiety Relief
It's Not Just A Workbook, It's A Self-Discovery And Mindset Transformational Guide.
---
Reset.
Reset your mindset to unlearn unhealthy habits and rewire your brain to start thinking differently. Reprogram your mind to be calm, peaceful, and focused.
Refocus.
Refocus your attention to think positive and useful thoughts, and minimize your negative outlook on life. Start seeing the world through a different lens and be the change in your own life.
Restart.
Recharge, reboot, and restore your mindset so that you can start fresh. Start seeing things from a different perspective so your attitude about life will change for the better.
You're Probably Here Because...

You have trouble sleeping
At the end of the day you feel exhausted but that doesn't stop anxiety from keeping you awake at night with thoughts of worry, regrets, to-do lists...the thoughts are endless and you can't figure out how to shut them off.
You have obsessive and uncontrollable thoughts

Your past, your future, what you said, what you should've said, what you did, what you should've done...your whole day feels like it consists of overthinking and obsessing over everything, ultimately draining you of all your mental energy.
You feel like anxiety is controlling your life
No matter how much you try to escape or avoid it, anxiety seems to control every area of your life. Your job, your relationships, your social life...you can't seem to enjoy a single moment of peace without anxiety somehow getting in the way.
You have constant worry and fear
You can't stop worrying about your health, your future, or even about getting your simple day-to-day tasks done. You have fears that might seem irrational to other people but to you they are very real fears that are taking over your life.
Low self-esteem

Your self-esteem has also suffered because even things that might seem simple for others to do like, taking a shower or brushing your teeth, take up too much of your energy for you to keep up with. So your self-care practices often get pushed to the bottom of the list.
A negative mindset
You have a negative mindset which prevents you from going after the things that you want, because you don't think that you have what it takes to succeed. You try to think happy thoughts but deep down inside you don't believe you are worthy
Painful thoughts about your past

Your past haunts you daily. You've made mistakes, you've been hurt by other people, so you're stuck living with those painful memories which prevents you from being present.
Worries about your future

The thought of having to live with a mental illness for the rest of your life scares you beyond belief. You fear the unknown and you fear being left behind, not knowing where you'll be 1, 5 or even 10 years from now.
Frequent panic attacks
It's difficult to hold down a job or go out in public because you never know what will trigger your anxiety and cause another panic attack. So instead, you keep yourself locked up inside your room until you're forced to leave your house.
Everything feels overwhelming
Even the simplest of things feel nearly impossible to do and cause you to feel more anxious. The thought of having to do anything that requires you to use up any little bit of energy that you do have left, makes you feel even more mentally and physically drained.
You feel depressed, unmotivated, and low on energy
Your to-do list seems never-ending. You usually sit for hours thinking about all the things that you need to do, but you end up not doing anything at all because you don't have the mental energy or the motivation. You feel sad for no apparent reason and it's draining your energy.
No, I'm not a psychic...
I only know these things because you and I have something in common...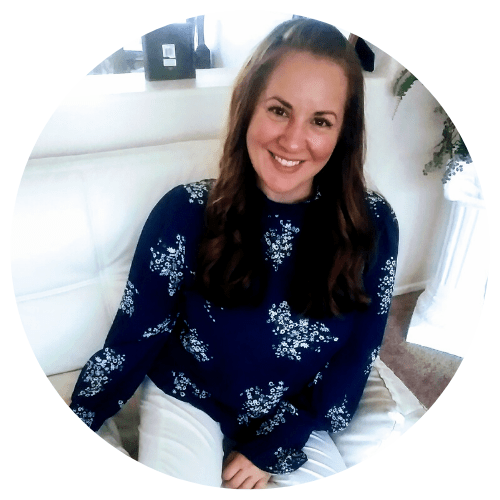 Hi, I'm Kari!
I once suffered from intense anxiety, and mild depression too.

It was a constant uphill battle.
Every morning I would wake up with a racing heart, dizziness, and unmotivated to get out of bed.
Sadly, this cycle affected my performance at work, hindered relationships, and it made me feel physically unable to do the simplest things.
Anxiety paralyzed me for years!
I felt alone.
Nobody really understood the depth of my pain.
Most people assumed that anxiety was like a switch that I could just turn off anytime and feel better.
But you and I both know that's definitely not the case.
I just wanted to have a normal life...
I wanted to go to work without worrying about having an anxiety attack.
I wanted people to understand my anxiety triggers.
I wanted to be able to function and not get all worked up over little things.
I wanted to enjoy my life and not feel like I was hiding from the world.
I wanted to feel better about myself.
I wanted to learn better ways to cope so I wouldn't have to rely on medication for the rest of my life.
I didn't want to be perceived as being "weak."
I didn't want people to feel helpless around me.
I didn't want to burden people with my special needs.
I just wanted to feel "normal."
I wanted to feel peaceful, calm, and easy to be around.
I just wanted what everybody else in this world wants...to be HAPPY!
And that's what FINALLY happened!
I went from being on medication for almost 3 years, to finally being able to manage my anxiety without the use of medications.
And I did it by using the tools and strategies that I'm offering you here, in the Mindset Reset Workbook.
If You're Struggling With Any of the Symptoms Above, Mindset Reset is Designed to Help You Overcome These Challenges...
Introducing...
The Mindset Reset Workbook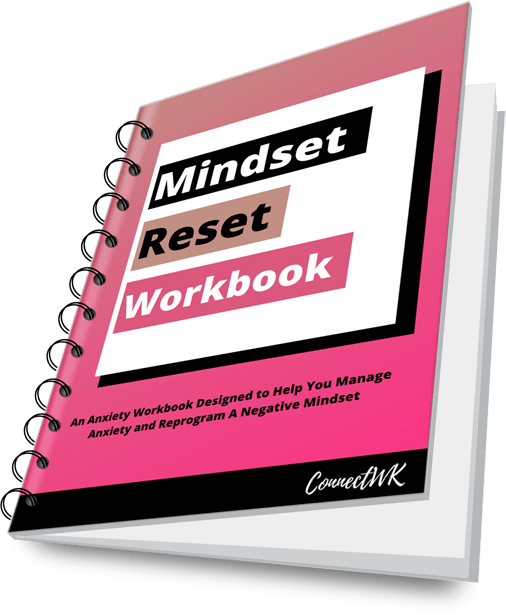 TOPICS INCLUDED ARE...
Self-Love
Relationships
Forgiveness
Negative Thinking
Positive Thinking
Exposure Therapy
Acceptance Therapy
Self-Image
Self-Esteem
Identifying Anxiety
Mindfulness
And so much more
Inside the Mindset Reset Workbook you will learn...
More about your anxiety triggers

Discover your mental roadblocks

How to cope with anxiety

Become more open-minded

Ways to de-stress

How to have a positive outlook on life

How to manage negative thoughts

Stop overthinking

Feel better about yourself

Stop living in the past and worrying about the future

Accept where you're at in your life

Improve your self-esteem

Reduce anxiety symptoms

Feel more calm, peaceful, and relaxed

Change the way that you think and behave
---
Mindset Reset is a guide with over 150 worksheets designed to help you change your mindset and improve your mental health.
Not only will you learn healthy coping skills but you will also have the tools and strategies to put them into practice, using the reusable fill-in-the-blank worksheets.
You will learn how to practice mindfulness and mindset exercises that will calm your thoughts and reprogram your mind.
Mental health all starts with reprogramming the way that you think and feel.
In this workbook, you will discover practical methods designed to reset the way that you think and help you refocus your attention onto the things that will bring peace and happiness to your life.
If you're ready to restart your life and reset your mind to become more positive, Mindset Reset is the perfect workbook for you.
---
LET'S TAKE A LOOK AT WHAT'S INSIDE...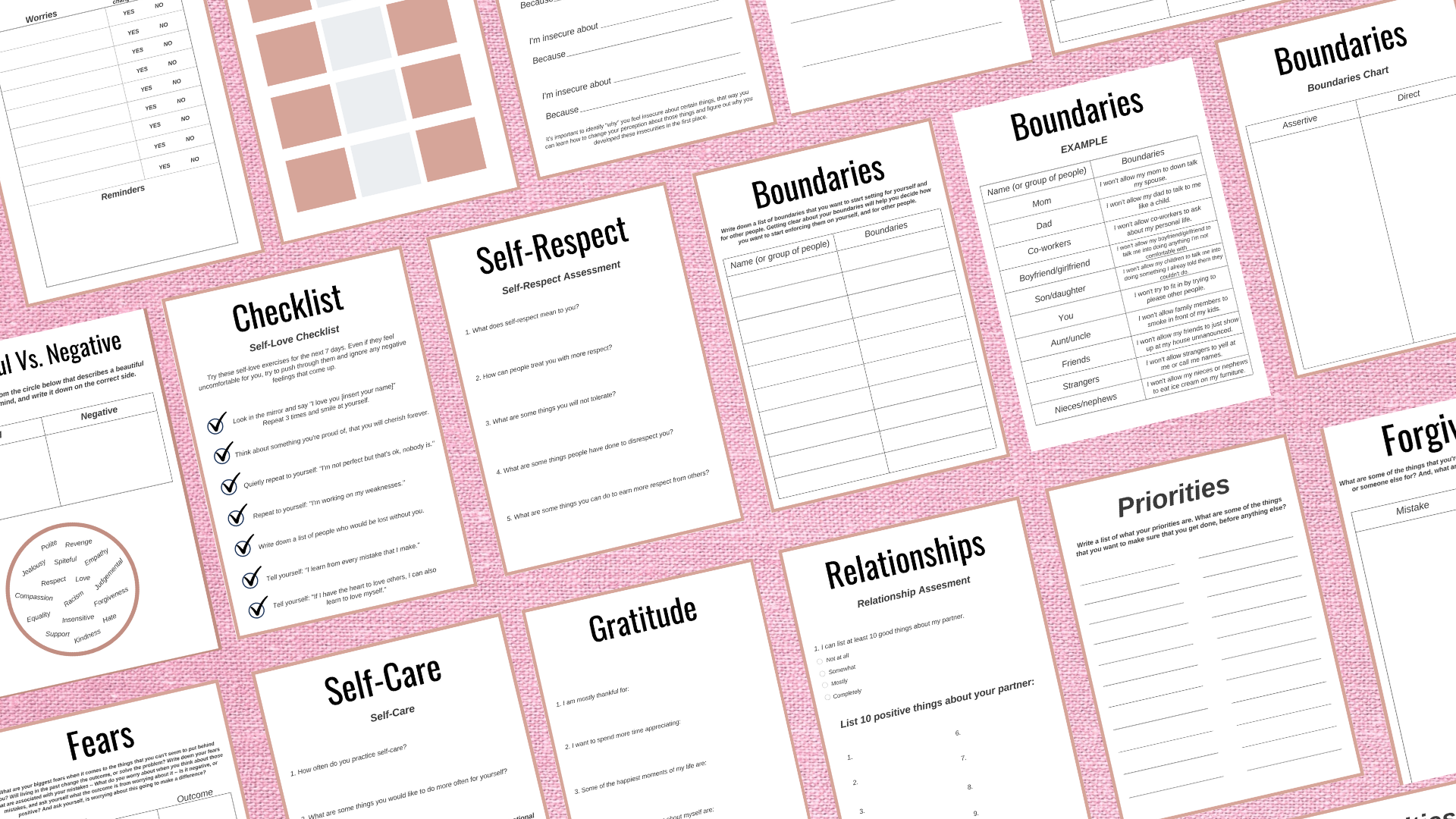 HERE'S WHAT YOU GET...

Mindset Reset Workbook
*Important- This is a digital (downloadable) workbook and will NOT be mailed to you. You can print and reuse the worksheets over and over again.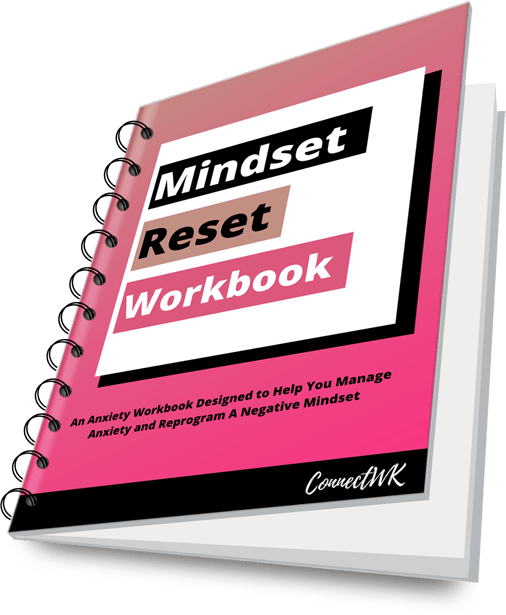 6 Sections Including...
Section 1: Why Do I Have Anxiety?
Section 2: Beautiful Thinking
Section 3: Controlling Negative Thoughts
Section 4: Anxiety & Depression Management Tools
Section 5: Self-Love
Section 6: Mindset
---
Reboot Your Mindset

Mindset Reset will teach you how to reset your mindset to help you reduce anxiety and change the way that you see yourself and the world.
You will be given exercises, challenges, and practical methods to guide you on your journey.
You will have a better understanding as to what makes anxiety thrive and how you can change your mindset to fight off anxiety.
The Mindset Reset workbooks main message is about teaching you how to have a beautiful mind, change your perspective on life, and learn how to cope with mental illness.
In this workbook, you will be given coping strategies, assessment tests to identify your weaknesses, and tips and strategies on how to overcome negative thinking.
PLUS 4 AWESOME BONUSES!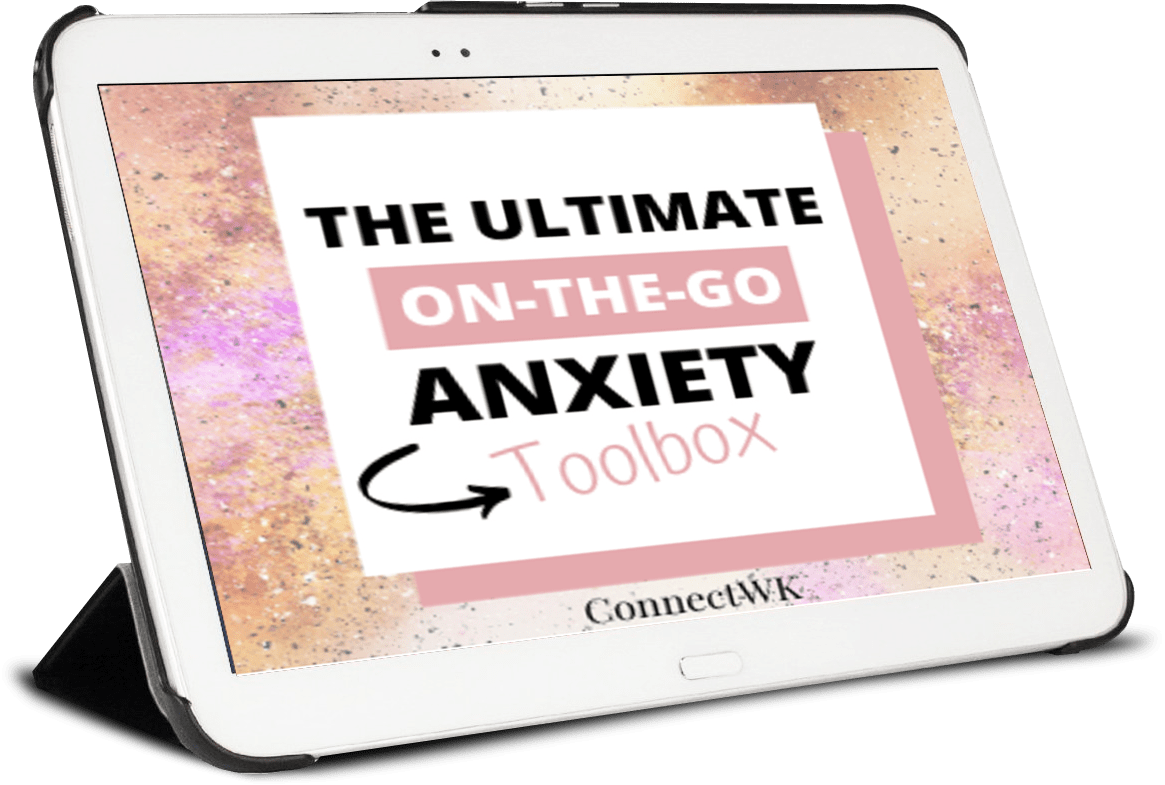 BONUS 1:
The Ultimate Surviving Anxiety Toolbox ($17 value...your's FREE)
The On-The-Go Anxiety Toolkit is great for times when you're outside of your home (at work, at the gym, at a coffee shop - hey, who's judging :)) and you start feeling overwhelmed. The Toolkit includes a voice recording (from me) walking you through difficult times to help keep you calm & collected. You will also get a few worksheets (fill-in-the-blanks) to bring your focus back to the present moment.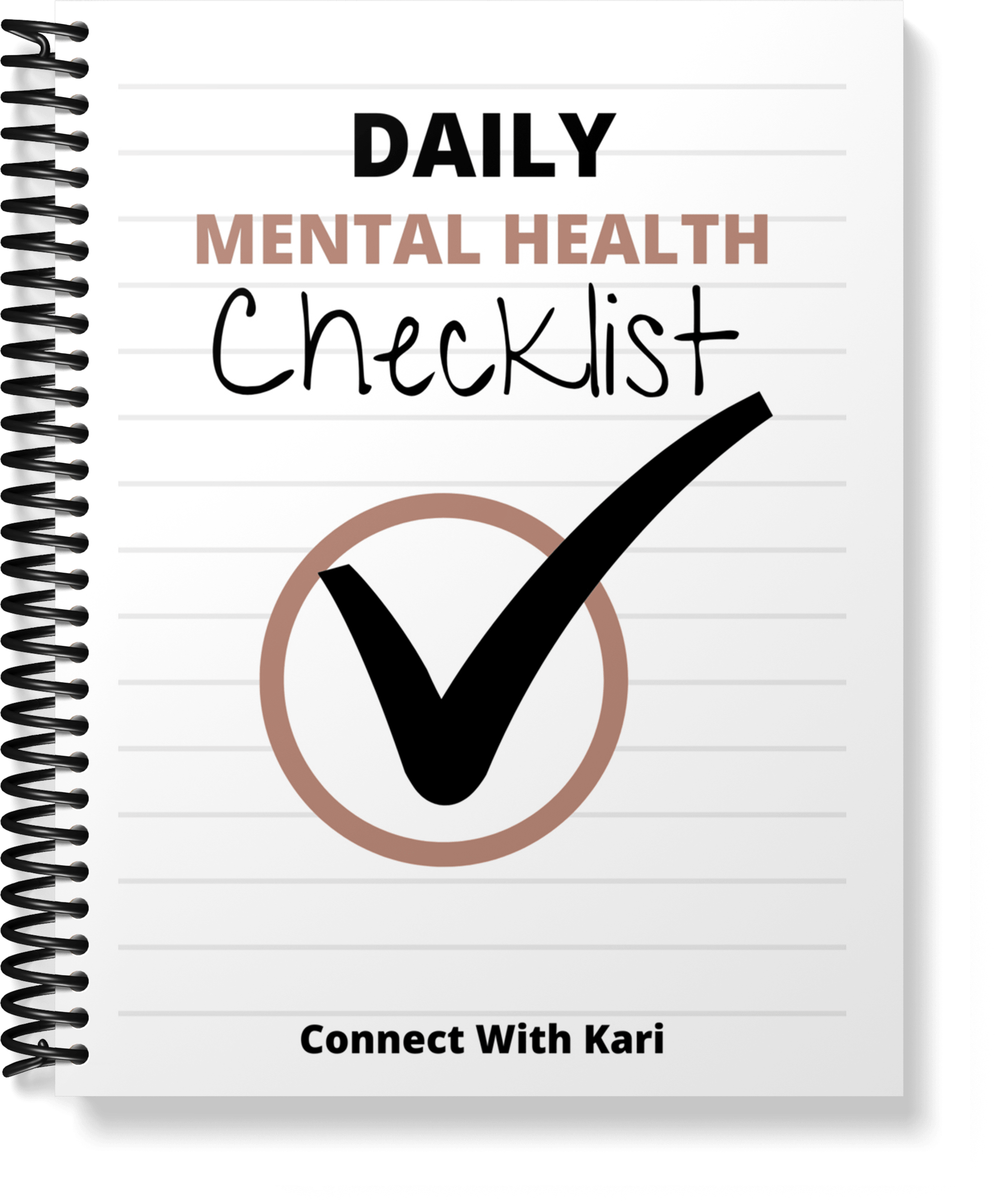 BONUS 2:
Daily Mental Health Checklist ($7 value...your's FREE)
The Daily Mental Health Checklist is a simple worksheet that you fill out every day, to make sure that you're doing all things good for your mental health. This allows you to keep track of your progress and make sure that you're doing all that you can for your mental health.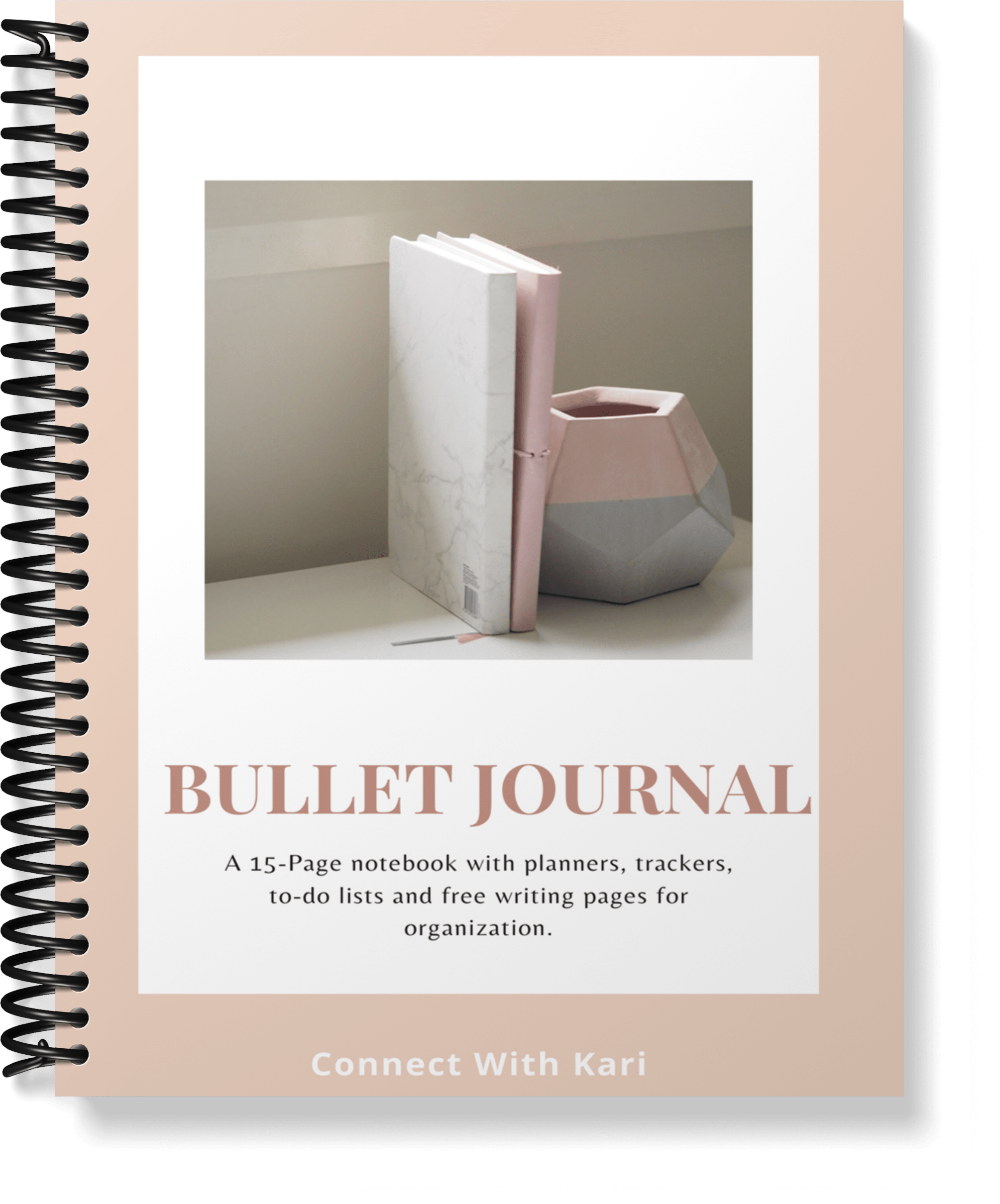 BONUS 3:
Bullet Journal ($12 value...your's FREE)
The bullet journal is a mini workbook, including 15-pages of trackers, planners, and charts to keep you on track and focused. You will also get a mood chart to help you keep track of your daily moods.
BONUS 4:

Lifetime Access to Added Worksheets ($47 value...your's FREE)

Anytime I add new worksheets to the workbook you will have lifetime access to those worksheets at no extra cost. The workbook currently has over 150 pages, but as I add more worksheets that number will change and you won't pay anything extra.
Some other common struggles that I hear a lot of people are facing that you might be struggling with too, are...
You dread waking up every morning
Every morning when you wake up you dread getting out of bed because you know you have to get up and do it all over again. The physical and mental symptoms of anxiety hit you as soon as you get out of bed every morning.

You're mentally and physically drained

Mentally, physically, emotionally...you just feel like you can't make it through another day because you're too exhausted from all of the overwhelm and negative thoughts that run through your mind.

Your relationships are suffering
You feel like you're a burden to your friends and family. Your anxiety causes you to lash out on people you care about, causing strain on your intimate relationships, friendships, and your relationship with your family.
You feel misunderstood
You feel alone, judged, and misunderstood by other people. It's hard for you to hold down a job or a serious relationships because you're so critical and judgemental of yourself that you feel like other people are judging you as well.
Benefits of Using Workbooks
Use them to share with your therapist

Workbooks help you transfer negative energy from your mind, onto paper

Great for expressing how you feel

Perfect for getting to know more about yourself

They help you stay focused and on track

They help you release negative energy

They help you identify negative thoughts & patterns

And they provide an opportunity for positive self-talk
IF YOU'RE READY TO RESET YOUR MINDSET AND REDUCE YOUR ANXIETY, GRAB YOUR COPY OF THE MINDSET RESET WORKBOOK TODAY!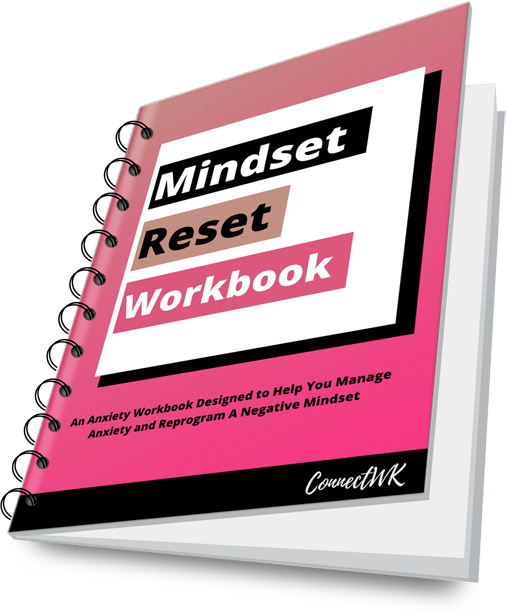 Course Curriculum
Section 1 - Why Do I Have Anxiety?
Available in days
days after you enroll
Section 2 - Beautiful Thinking
Available in days
days after you enroll
Section 3 - Controlling Negative Thoughts
Available in days
days after you enroll
Frequently Asked Questions
What format is the workbook delivered in?
The workbook is a digital (downloadable) workbook that will NOT be mailed to you. You will have to print the worksheets and they can be reused over and over again.
Is my payment safe?
Yes! Your credit card information is extremely important to me. Your credit card information is safe to use and does not get stored. So you use it one time and the information goes away.
What if I am unhappy with the workbook?
We would never want you to be unhappy! If you are unsatisfied with your purchase, contact us in the first 30 days and we will discuss if you qualify for a full refund.
What do I get with my purchase?
> 8 seperate pdf files with 150 downloadable worksheets (in total) in A4 size > 5 separate pdf files with 25 downloadable pages in A4 size > You will be able to download and print your Mindset Reset Workbook and pages instantly.
What will this workbook help me with?
Mindset Reset will help you reset your mindset to manage negative thoughts, have a different perspective, and help you calm and relax your mind. It will help you cope with and overcome anxiety, stress, and depression.
How long will it take to get results?
I cannot guarantee your results. Every person is different but if you start practicing the suggested methods in Mindset Reset Workbook, you will start to see results fairly quickly.
I have another question